The Power Supply Unit allows automatic switching between two power supplies and a manual switch to a backup power supply.

The Power Supply Unit is a 2U rack configured with manual switches to select power supply priority and LED buttons showing
power supply status.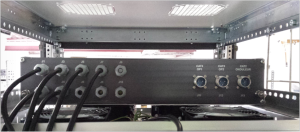 Input power supply and output distribution connectors are on-demand.
Please go to http://www.timelinkmicro.info/contact/ to request detailed information